In May we got down to some serious mining at the Orchard. As we worked another 6' along strike, the very blocky mineralization appeared to give way to a new expression of mineral concentrations at the Orchard. The Orchard pegmatite, most likely an LCT beryl columbite/phosphate peg, is very poor in muscovite and tourmaline (schorl). Only at the contacts do we see biotite laths to 50 cm and a few schorls. The first tip that something was afoot was the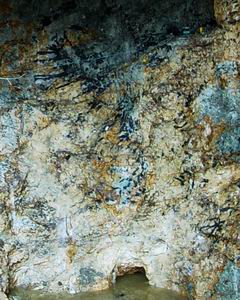 increasing abundance of gray apatites in pockets more centrally located within the pegmatite. These apatites were emplaced on quartz and feldspar and ,although still gray, we becoming large. The other thing we noticed was the appearance of more schorl within the this central portion as well. The next think to get our eye was finding a small vug containing microclines with a halo of small muscovites. Although this association may not rate a second glance at other pegmatites, at the Orchard it was a rarity. Almost never before have the muscovites presented in such as fashion. Very occasionally we will find a vug or beryl cast that have a few loose muscovites. To our recollection, never before have we seen them standing on microclines. Little things .... may be adding up. Another observation was beginning to take root. In 98-2000, the beryls in pockets were associated with blue apatites. When the beryls in pockets disappeared, the apatites turned gray. At first we did not make the connection but as the dry spell persisted over 2 years of mining with a steady flow of gray apatites the linkage was starting to become more compelling. I commented to Richard that if we starting to see a color shift in the apatites, our prospects of finding pocket beryl may start looking up.

This was not necessarily prescience on my part. I had already started to notice a color change in the apatites. The small group below was the first clue. This group was removed from a foot wall vug. Normally, the foot wall is relatively beryl poor, so I was inclined to dismiss what I was seeing. Only the inevitable semi bored chit-chat amongst miners, while toiling, percolated this comment . We were to find below this area etched beryl fragments in vugs. In addition, the Orchard seemed to be bulging a little as the foot wall was at least 2 feet outside the contact just 6 feet back up strike. The hanging wall side seemed to remained unchanged.


| | | |
| --- | --- | --- |
| microcline with muscovites | 1 cm fluor-apatite on feldspar | Vug with 2 cm beryl, May 8 |
Shortly after this we found our first beryl in vug in 2 years. Although not very special, at least it was finally the real thing.
Our next bench back into the headwall produced some more encouragement. We opened a small albite lined pocket containing bertrandite, gemmy apatites and some etched beryl. The beryl at the top of the page is one of these. Below this area we found a cobalt blue apatite group in a small vug. The color association of blue apatite was becoming more compelling. At the same the blocky feldspar and quartz seen along the last 20' of strike at this horizon was beginning to shift to a less crystallized texture. Did the schorls in the headwall ahead mean that we were about to run headlong into a severe pinch, or ,worse yet, the end of the pegmatite at this depth?


| | | | |
| --- | --- | --- | --- |
| May 14 vug | Bertrandites from May 14 vug | Apatites on albite, May 14 vug | Blue apatite in vug, May 20 |