Nature was determined to delay our efforts at the Orchard this Spring. During the last 5 years we had become use to warm Fall weather and early Springs. This year we were recalibrated. It is incredible to believe now that Richard and I, mid March, walked out on to the Orchard glaze weak kneed in fear that at any moment we would plunge through a thin crust of ice never to be seen again…or at least until we floated to the surface in July after the pollywogs had had their way with us . This picture, with Richard and his son Hayden taken March 24, shows just how misplaced our fears were. It seems that our desire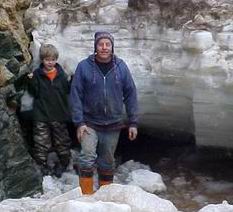 to push the mining season envelope deep into November of '02 had only borrowed from the a Spring start. The gradual filling of the pit during the cold weather of December and January had resulted in an immensely thick veneer of ice forming in the pit. The ice was at least 8 feet thick. Having enjoyed the refrigeration of the depths of the pit during the hot Summer weather of last year, we were convinced our only choice to get back on any reasonable schedule was to ….mine out the ice. More than 1000 cubic yards later, taking nearly 2 weeks, we were back to where we left off in November. There were 2 high points during this aside.

During one of my 70+ trips to the dump to shake out the latest load of glacier blocks from out 30 year old Mack truck dump body (Richard digs and I drive truck), Richard came walking out of the pit. Anytime an excavator operator appears on foot away from the machine it is a serious warning sign. Most would drive their machine to the refrigerator to get another beer. What mechanical setback had beset us I wondered? Before Richard could explain why he was a pedestrian, I whined the ice blocks were jammed up against the tailgate…again ' That's the least of our worries' retorted Richard. It seems the solid ground we were loading from in the pit was not so solid. Reaching out with the bucket to grab a floating berg, Richard and the JD110 slip off the packed ice and dropped into 5' of icy water. Water and ice flooded the cab and the engine compartment. Fortunately the engine air intake was above water. This called for action. Immediately we set up our 3 inch and our 2 inch pump in hopes of bailing ourselves out so to speak. I worried that our neighbors at the Bennett , who were around that afternoon, would discover our predicament to their amusement. ' Out-of-stater looses excavator in the icy waters of Maine quarry' etc. etc. Yup… So while the pumps worked, I raced to Turner True Value to rent another 3" pump. By 7 that evening the water level in the pit had dropped to a point that the JD110 could drag itself out of the immense slushy into which it had foundered. …Another crisis averted.

From this near miss, we vowed to be more careful as to footing and to insure the road ahead was pumped dry as much as possible. Pumping out of the water from beneath the ice caused the it to fail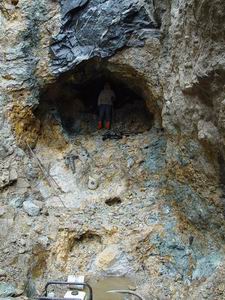 along one of the many snow events laid down during the winter. Curiously the ice above this collapse held in a arch like bridge. Even more amazing is that we had blasted more than 100 yards of muck onto the ice while putting in some safety benches along the headwall and sides of the pit. In the picture at the top of the page, we have backed the JD excavator under the ice to show scale. The muck can be seen piled up high on the ice.
After 18 days of preparation we were ready to mine. Our first chore was to increase the depth of our adit by 6' while the muck from the safety benches was level to the adit floor. Remembering the difficulty from last Fall starting the burn cut, we were determined to do better. That is, move more rock with less explosives. Perhaps our effort this time rates a C+ compared to last years solid D-. This time, one of (4) holes loaded around the relief pulled, allowing us to make some headway from the first round. 2 and 1/2 days later our task was accomplished. We took special care scaling the roof with miner's scaling bars. We may set rock bolts or overhead beams with wire grid for added security. In the picture, Richard is standing in the depths of our 12' adit.
Two pockets are visible in the picture. The smaller pocket was the one that last Fall had yielded the large quartz groups. Working it a little more, Mary found several quite large apatite groups on feldspar and quartz. Mary is skeptical of the effort that Richard and I apply to the detail work. So it didn't help our cause that her careful washing of the roof chambers produced the first pocket beryl we had seen in a long time. Admittedly it is just a small nodule but it is sufficient of a teaser to keep us going. I believe we must encounter some narrowing or other disturbance in the pegmatite for pocket beryl in quantity to be found.