Selected Links: Logo or names are links.




Reproductions of Augustus C. Hamlin's two books on Mount Mica circa 1870 & 1895.
The Tourmaline and The History of Mount Mica.
Publisher in geological sciences, with emphasis concerning Pegmatology, Mineralogy and Petrology.


Western Maine Minerals Adventures: Take a guided tour to try your luck at some of Maine's most famous
mines or screen for gems right at their site on route 26 in West Paris, Maine.

Poland Mining Camps is located in Poland, Maine and our primary business is to cater
to the needs of the pegmatite mineral collector, enthusiast or geologist, whether as individuals or as a Group.
Our customers have exclusive access to famous pegmatite quarries and are allowed to collect
mineral specimens, study the geology and enjoy the opportunity unavailable to the general public.
They may be snowed in and frost bitten , but it is time to sign up for the 18th Maine Annual Mineral Symposium.


BBaril Books stocks a unique list of books and other resource documents on Maine
mines and mineral localities as well as nature books focused on the Northeastern
United States.

Are you interested in pegmatites? The Pegmatite Interest Group (PIG) is comprised of individuals who share a fascination
and appreciation of the mineralogy and petrology of pegmatites. Whatever your
background or level of involvement, you are welcome to participate.

AArt
Art in Geosciences is a website spanning economic geology, applied sedimentology, ore mineralogy,petrography and geomorphology. The authorís field of interest and studies rest on pegmatites in NE Bavaria (Germany) and elsewhere in the world (Mongolia, Malaw, Vietnam) with special emphasis placed upon the heavy minerals in the clastic aureole around pegmatites and gemstones/ precious stones within the pegmatites and their wall rocks.

Pegmatology International
Pegmatites International is a site intended for those who have experienced the Wonderful World of "Pegmatology"
(the study of pegmatites) and want to know more. It's designed for the non-pegmatite specialist,
the professional geologist and the beginning and graduate student.
(may require Flash compatible browser)
Fine 14 ct. weight gold jewelry designed by Dennis Creaser. Stop into their store at 138 Main
in S. Paris to see these unique pieces featuring amythest from the world famous 4th of July
Pocket. Don't miss the mineral museum highlighting many great mineral specimens from Oxford County.

The Mineral Fantasies of Sarah Sudcowsky
Natural specimens merged with fine art to create unique works. See her impressive mineral collection, much of it
self collected at classic European localities, at http://www.mindat.org/gallery-2090.html


Hummingbird Minerals is new online mineral shop featuring affordable yet quality mineral, rock and crystals specimens.



Mineralen.com is the mineral site for all collectors and people who are interested in minerals, geology and gems.
The site contains a mineral database, a mineral-slideshow, a summary of all Dutch, German and Belgium mineralshows,
mineral-links to resources on the internet, some discussion forums and more... visit and enjoy the treasures of our earth!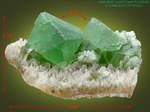 Toveco specimen mining. These guys 'Dig their stuff'. Site covers flourite and beryl mining in New Hampshire, USA.

Pala International
The finest in precious stones to the trade.
Very interesting links to articles about the San Diego County gem mines, history
and discoveries.
Collector Fine Jewelry
Extremeley well crafted website devoted to fine jewelry and specimens with an emphasis on the south east Asia region of Mayanmar,
Thailand and Sri Lanka.The Within the pages one will find pendants, rings, earrings, etc.,along with colored stones of every
persuasion, including fine Burma ruby, Burma sapphire, Ceylon sapphire, Kashmir sapphire alexandrite, catís eye,
tourmaline (including rubellite tourmaline), spinel, garnets such atsavorite, demantoid, rhodolite and spessartine, imperial topaz,
aquamarine, emerald, and plethora of others. The site features mineral specimens, including native gold, San Diego County minerals
and a wide assortment of specimens from the Mogok Stone Tract in Upper Burma.
Claus Hedegaard
.Claus Hedegaard, A Danish website, describes world wide localities (e.g., Tsumeb, Wagholi, ElDesierto) he has visited.
The site also has a page of reviewed links to mineralogy, palaeontology and geology as well as
his literature wants and duplicates.

Pickens Minerals
Lots of information, specimens and other links
Minerals featured from Peru, Canada, Mexico, Brazil , India
The Mineralogy Club Of Antwerp, Belgium
Images, Virtual Quarry, Software, Links and More
The Berry Gem Mine, East Poland, Maine
An active Maine tourmaline mine, images, collecting info
frequent updates
The Mineral News
Website of LR Ream Publishing. Publications include The Mineral News,
reference and guide books, links, mineral software,
MinDex: The Mineral Locality-Periodical Index
OsoSoft Mineral Connection
Books (new and used), Equipment, Maps, Specimens,
Links to Museums and other sites.
The Mineral Mall
Great specimens with many satisfied customers. See their pages on
the newly re-discovered Perry Petalite Prospect in Peru, Maine.
Camping in New Hampshire , checkout Log Haven Campground
The Pegmtite Page
The purpose of The Pegmatite Page is to provide a forum for those of us
interested in pegmatites (pigs!). Information on
recent finds, journal articles relating to pegmatites
and information about upcoming shows and conferences.